When you first move to a new area, it can take a while to figure out the best spots to eat, get a drink, go for a hike or have a picnic. This rings especially true when you live in Kona, Hawaii, with many areas to discover incredible outdoor views and experiences. To cut down your search time, we are breaking down some of the best spots for you to get together with friends, family, or a significant other to have an outstanding picnic in one of the most beautiful destinations in the world.
Kekaha Kai (Kona Coast) State Park

The Kekaha Kai State Park features gorgeous white sandy beaches, hiking trails, and a picnic area that will allow you to take in all the natural beauty while enjoying your meal. The picnic area is equipped with tables so you won't have to worry about sand getting in your food as you eat. You can spend your day doing fun beach activities, going for dips in the ocean, and hiking the beautiful trails, and after you work up your appetite, layout your picnic as you watch the sun go down.


The park is open from 8:00 a.m. to 6:45 p.m. daily and accessible to the public. There are no lifeguards along the beach, so you should be a decent swimmer if you choose to enter the water. They warn that there could be dangerous rip currents and pounding shore breaks during periods of high surf, and only experts are advised to enter the water during these times.
Old Kona Airport State Recreation Area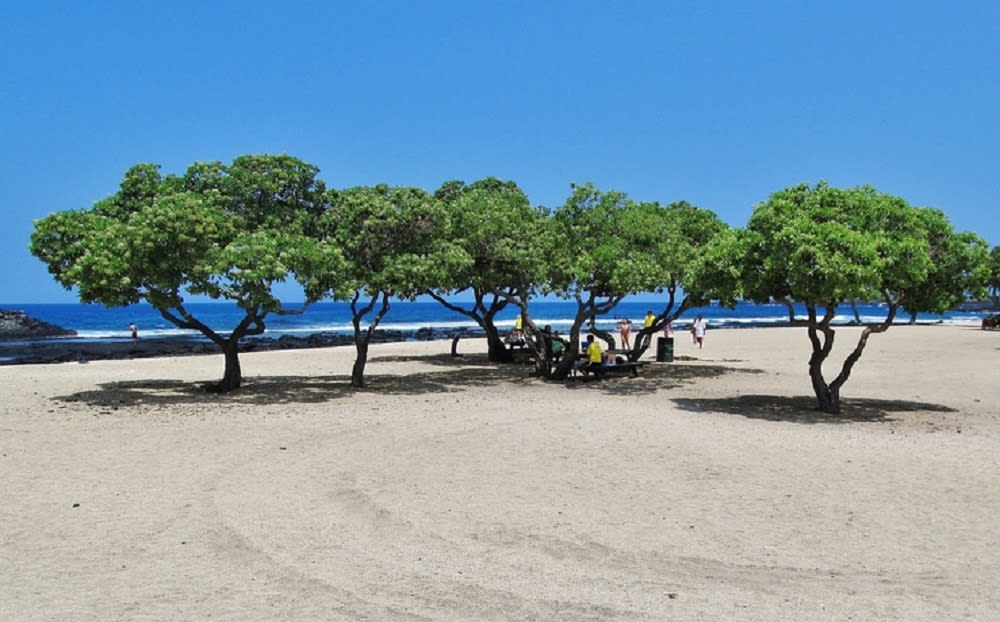 Known locally as "Old A," the Old Kona Airport State Recreation Area is a park built on an old landing strip. The 103-acre site closed in 1976 when the larger Kona International Airport was built. It includes baseball and soccer fields, a skateboarding park, the Kona Community Aquatic Center, and the Kekuaokalani Gym. There is a public use pavilion, a flat walking trail next to the runway, restrooms, showers, and picnic facilities.
The tide pools are also an excellent resource for you and your family to explore. Wade through these tiny ocean pools to discover magical marine life. The beach is open from 7:00 a.m. to 8:00 p.m., leaving you plenty of time to enjoy the gorgeous views and learn about the historic area while enjoying a meal and great company.
While you can go in the water, there are only a few patches of sand, and the shore is pretty rocky. There are also no lifeguards on duty at the site, so you should be careful and only enter if conditions are calm.
Honokohau Beach

Honokohau Beach is a long beach located inside Kaloko-Honokohau national park. The park is 1160 acres long and full of some of the state's best archeological sites and artifacts. There are ancient rock carvings, temples, burial sites, trails, house platforms, and three fishponds throughout the park, suggesting a civilization took residence here long ago.

The beach is truly a sight with the white sand beaches, beautiful turquoise water, and a low lava shelf that lines most of the shore. This is a great place to do some snorkeling since an offshore fringing reef shelters the beach from strong surf and currents.

At the beach's northern end, a trail leads you across a lava field to a water pool known as Queen's Bath, a spring-filled lava pool. This is the perfect spot to take a break from your adventures inside the park and have a picnic while taking in the gorgeous natural surroundings. Make sure to bring a blanket to lay on the sand since it is littered with pieces of coral and lava.
Kahalu'u Beach Park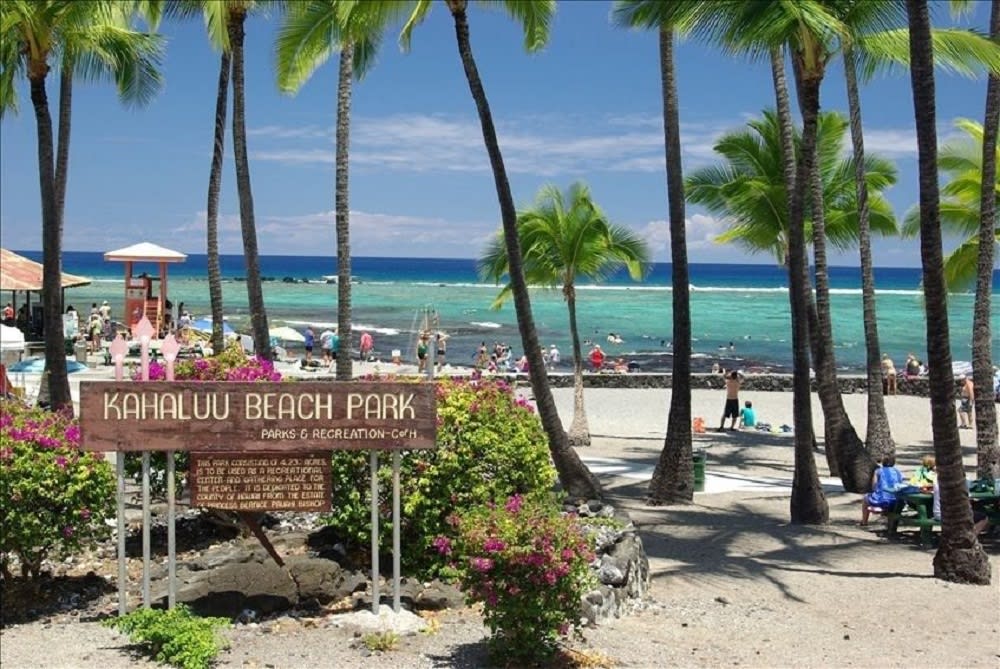 This is one of the island's most famous beach spots, and it can get crowded during the day. There is a pavilion, a parking lot, and a snack bar available at the site. There are also equipment rentals available for those who want to get out on the water. While there is no specific picnic area at the beach, it is still a great spot to lay out a blanket and eat while enjoying the fantastic views and listening to the waves roll in. The water here is almost transparent, so you will see tons of unique and exciting fish should you venture out.
Since the beach is so popular, make sure you get there early to secure a spot. If you don't feel like bringing your own food, the snack bar is a great place to grab some food for your picnic, and you won't have to lug a cooler as a bonus!
Maunakea Summit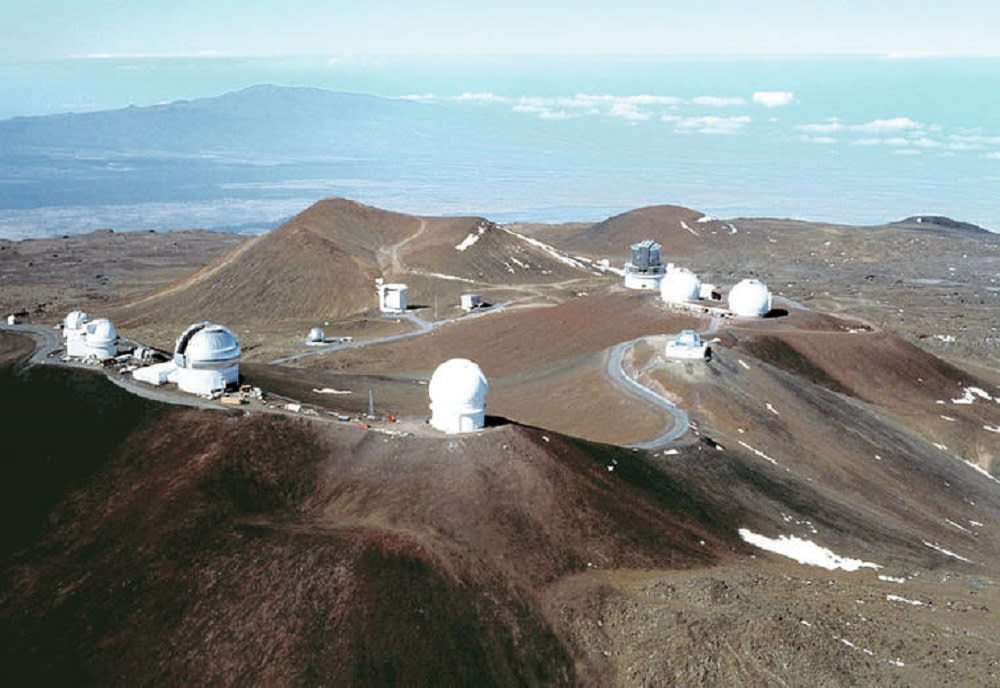 If you are on the adventurous side, you can head up to the Maunakea Summit to witness the fantastic views while enjoying your picnic. You can visit during the day or head up to sit under the stars.
To get to the summit, you will need to take a 4WD vehicle with good brakes to navigate the steep and winding road. Any cars that are not 4WD will have to stop at the visitor center about halfway up. Regardless, it is advised you stop at the visitor center for at least a half-hour before you continue your ascent to allow your body to acclimate to the altitude since the mountain is over 33,000 feet high.
If you'd like to opt-out of the trek yourself, there are a couple of different tours you can sign up for that will take you up the mountain and allow you to learn about its vast history. These include a summit and stargazing tour for those who want to visit at night and a summit tour during the day. We recommend trying to visit before the sun goes down and enjoy your meal while watching the most spectacular sunset you have ever seen!
Hawaii Islands Picnics and Provisions

Now that you have your location picked out, it is time to add the other component of a picnic: the food! While it's not a picnic spot, it is the most essential part of your trip!


Hawaii Islands Picnics and Provisions
is a boutique catering and event company that specializes in grazing boards, gourmet platters, feast tables, luxury picnics, and gift baskets. With food infused by the islands' culture, ingredients, natural beauty, and hospitality, you can't go wrong with a meal from Picnics and Provisions! They combine all the flavors and textures you need for your meal, including salty, sweet, creamy, crunchy, fresh, fruity, and savory.
The Signature Graze has specialty cheeses, charcuterie, veggies, honeycomb, dried and fresh fruit, crackers, bread, nuts, preserves, pickles, dips, crackers, and some surprises. It costs $60 - $75 per person.

The Premium Graze includes everything from The Signature Graze with one or more specialty pupu offerings like poached shrimp, bacon-wrapped dates, or the extremely popular magic eggs. Depending on the selection, the price is $75 to $125+ per person. They also offer Graze specials for kids and brunch options.


Contact
them to book and add one of these spreads to any of the locations above, and you are sure to have a unique and delectable experience you will remember forever!
If reading through all these beautiful areas sounds like an idyllic experience, contact one of the fantastic real estate agents at
Luxury Collection Hawaii
to visit the incredible homes for sale in Kailua-Kona. Let these experienced Kailua-Kona real estate agents help you find your dream home in Hawaii — and your next favorite picnic spot!

*Header: Kua Bay - Photo courtesy of Hawaii State Parks, Kekaha Kai State Park