Credit: Papa Kona Restaurant & Bar
Located on the west coast of the Big Island, Kona is a beautiful, historic beach town, known for deep-sea fishing, delicious coffee, and scenic shorelines. A stroll through downtown Kona reveals the town's bustling art, shopping, and food scene—and thanks to the area's natural beauty, many restaurants have gone the extra mile to create a memorable outdoor dining experience for their guests.
Below are the best outdoor dining options in Kona.
Willie's Hot Chicken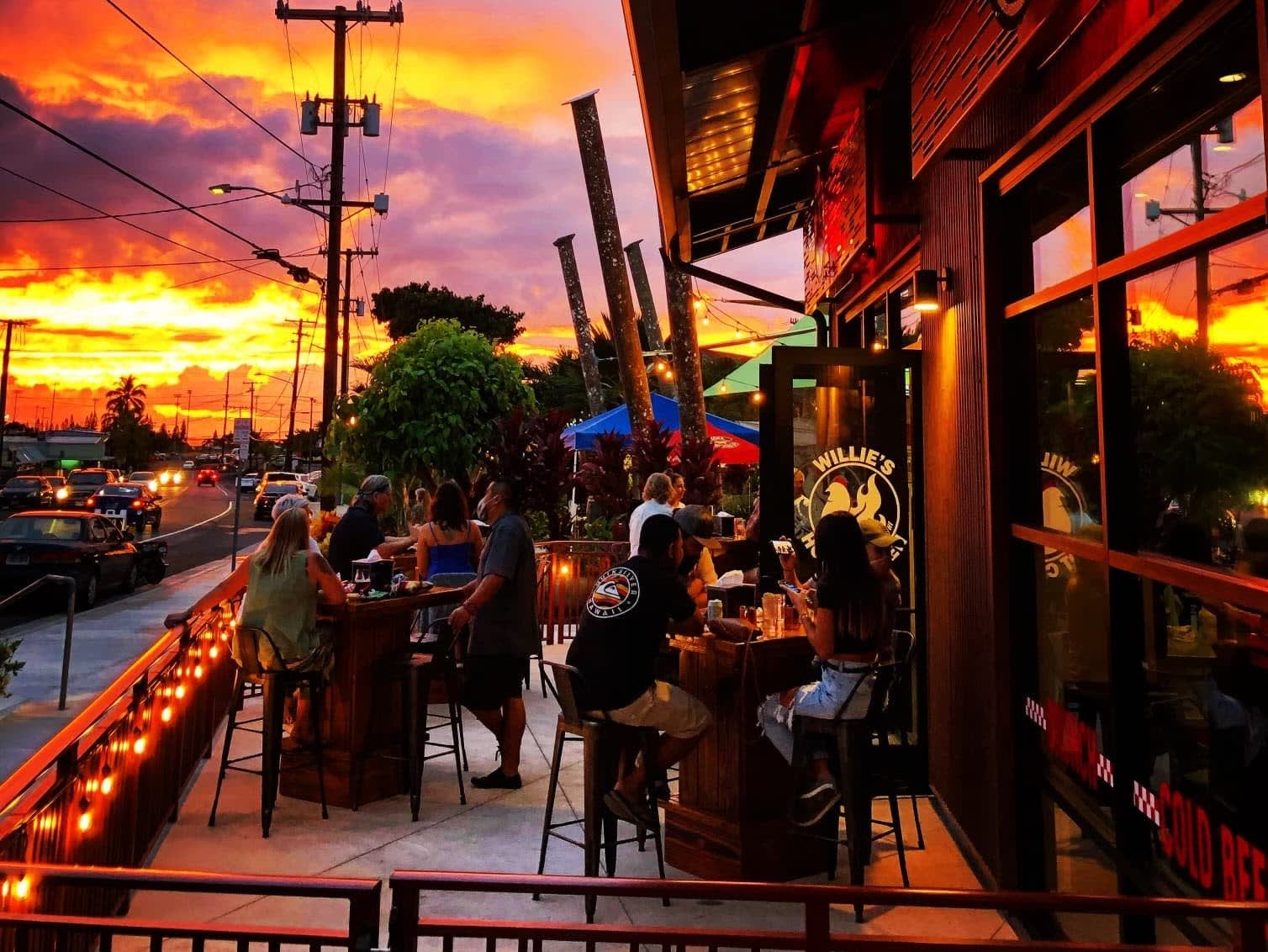 Willie's Hot Chicken may be in Hawaii, but it sure tastes like Nashville. This Kona gem serves responsibly sourced, all-natural, crispy fried chicken, alongside seven different sauces (each with its own level of spice). Whether you get a breast or a wing, you're guaranteed to experience the flavors and textures that make Willie's famous. They also have 12 rotating beer taps, which will wash down even the spiciest sauce. Willie's patio is the place to be, thanks to its laid-back, friendly vibe and good people watching. Pull up a seat with friends and listen to live music during the first "Fryday" of every month. You'll feel like you're at a Nashville picnic, with palm trees.
Magics Beach Grill
You can't find a restaurant with a more Kona atmosphere than the one at Magics Beach Grill. This waterfront grill serves modern Hawaiian cuisine that's fresh, vibrant, and flavorful. The restaurant's building dates back to 1965 and is a nod to the area's deep history. Enjoy Hawaiian classics like poke, glazed pork belly, and Kona Mushroom Pasta. The cocktails are also noteworthy, and the Mai Thai is best enjoyed on the restaurant's casual oceanfront patio. Breathe in the salty sea air as you enjoy the best of Kona.
Beach Tree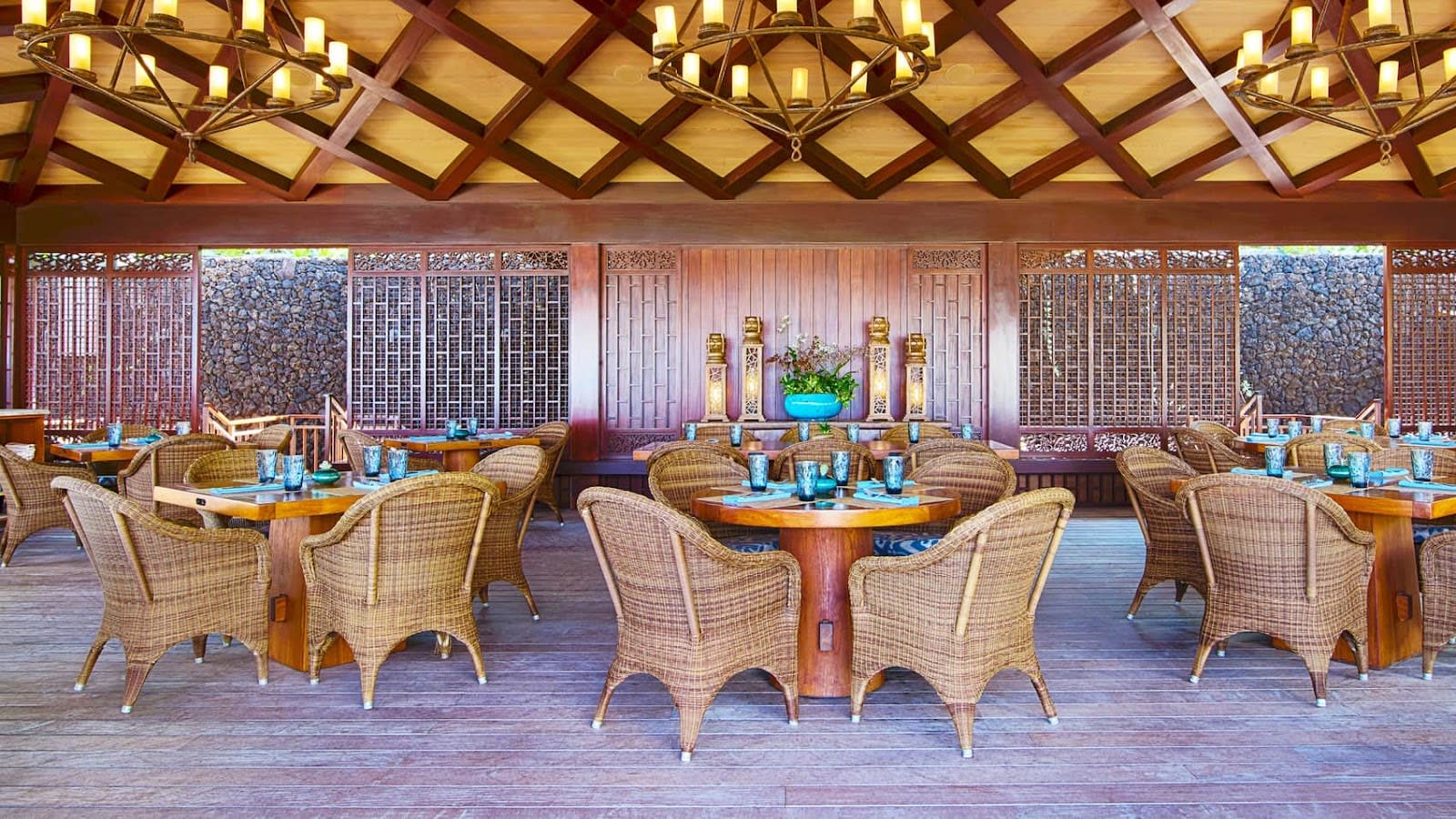 For more refined dining, choose the Beach Tree Bar. Located in the Four Seasons Resort, this beachfront bar and restaurant offer fresh Italian food and an array of signature cocktails. The patio oozes tropical luxury, with its brown wicker chairs, sea blue accents, and water fountains. Whether you're enjoying a sunny lunch or a sunset dinner, it's going to be picturesque. Enjoy perfectly cooked Japanese beef Wagyu, lobster pasta, or the black truffle cavatelli. Pair your dish with a martini or tropical cocktail.
Brown's Beach House
Even more luxurious is Brown's Beach House, an open-air restaurant that serves farm-to-table cooking with a 360-degree view. This is the perfect place to enjoy a romantic sunset dinner in Kona, thanks to the waterfront vistas and sea breezes. Enjoy Big Island Ka'u Coffee Venison, Filet Mignon, and the legendary Kona Coffee Mud Pie. All the island's flavors are represented in Browns' food, making for a truly authentic luxury meal. The cocktails are also well-mixed and worth the visit. The White Orchid Cosmo or the Hale Kai-Tai are made from fresh juice and top-shelf liquor and combine to make a cocktail you'll dream about.
Foster's Kitchen
Foster's Kitchen is the perfect place to enjoy a relaxing evening out on the town. The restaurant's chef draws inspiration from the island's natural beauty and aims to replicate it in each of his made-from-scratch dishes. Each ensemble is made-to-order, with a great degree of attention and care. The Seafood Pesto Puff Pastry, Blackened Shrimp Cheese Grits, and the Daily Fresh Catch are the standout specialties. The menu has something for everyone, and the patio is where everyone gathers. Look out onto the beautiful ocean as you kick back, relax and enjoy a Lele cocktail.
Umekes Fishmarket Bar & Grill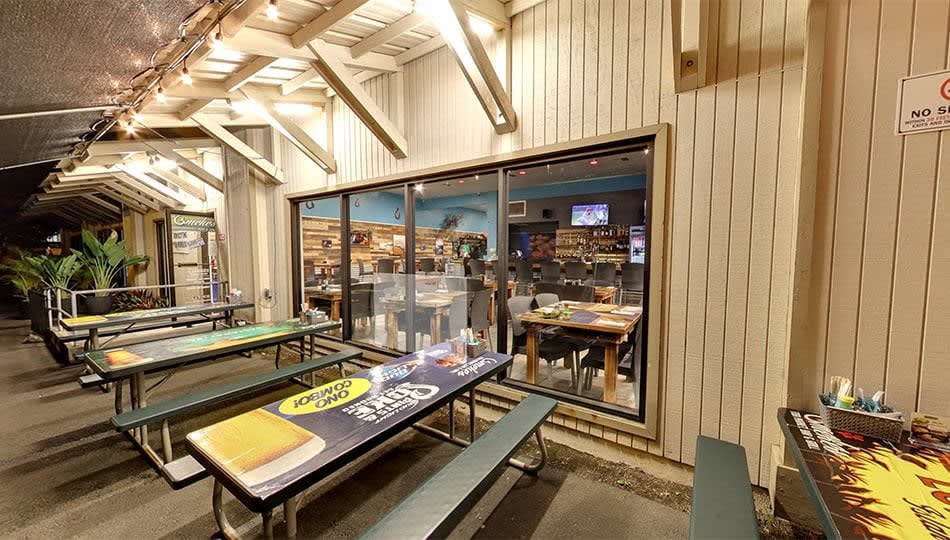 Umekes slogan is "So fresh, it's off da hook!" This casual seafood joint is best known for its poke bowl, which combines Umekes fresh catches with flavorful toppings and sauces. The shrimp, oysters, and ahi cakes are all melt-in-your-mouth fresh, and the Big Island 1944 Mai Tai is guaranteed to make your meal just that much sweeter. Grab patio seating and enjoy the fresh air and live music.
Island Lava Java
Island Lava Java looks like fun on the outside as it feels on the inside. Since 1994, this family-owned establishment has offered ocean-side dining with views of Kailua Bay, as well as spectacular sunsets on each of its two levels. Everything is organic and prepared from scratch, making it some of the freshest food in Kona. Try the Macadamia Nut Crusted Fresh Catch, a Hawaiian staple, or the fresh fish tacos. The restaurant also has a breakfast menu, full of classics like Eggs Benedict and yogurt parfaits. Soak up some morning sun on the patio while you start the day off right at Island Lava Java.
Papa Kona Restaurant & Bar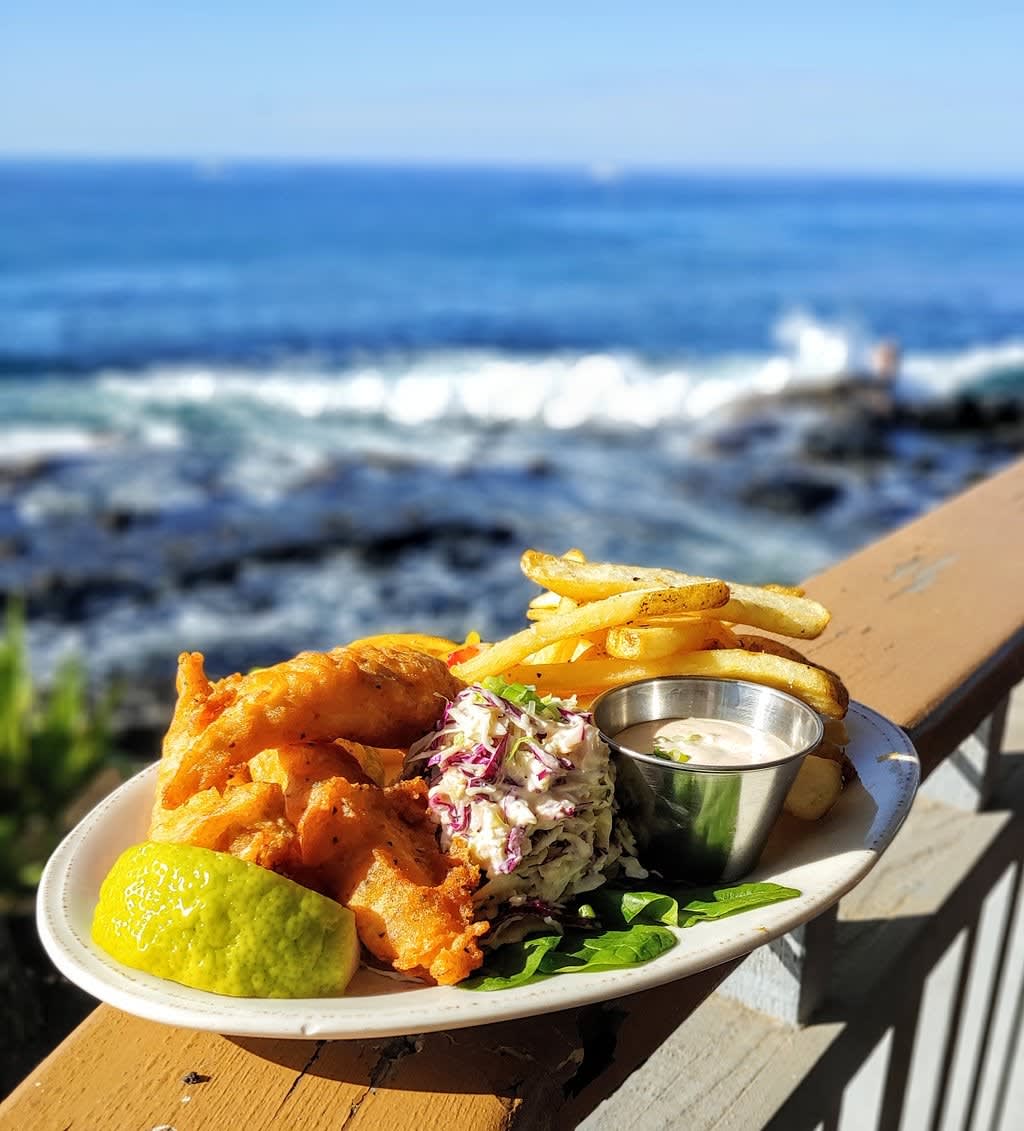 Papa Kona has it all: relaxed vibes, an international menu, and live music. Located right on Kona's rocky shoreline, it's a large establishment, where a wraparound porch beckons diners to take a load off. Papa Kona serves breakfast, lunch, dinner, and fantastic drinks. Try the Kalua Pork Quesadilla or the Fresh Catch Tacos. If you're interested in enjoying a beverage, Papa Kona's craft cocktails are intricate and delicious, featuring flavors like activated charcoal, guava soda, and hibiscus pomegranate syrup.
Quinn's Almost by the Sea
Quinn's might not be right by the sea, but it's certainly close. This laid-back, open-air patio comes alive at night, with sparkly lights, excitable guests, and delicious food. The pupu platters are popular sharing options, while the specialties include the Captain's Platter and the Catch of the Day. The food is delicious, and the patio is around the back of the building, making for a relatively private dining experience.
Shopping for Kona homes for sale?
If you're interested in exploring Kailua-Kona real estate, work with experienced local agent Leiola Augustine. Leiola has the expertise, market analysis, and exceptional customer service to make your experience buying or selling in Kona feel like a Hawaiian vacation. Contact Leiola today!