Kona is one of Hawaii's most popular tourist destinations. Located on the western end of the main island, the Kona Coast features some of the most beautiful landscapes in Hawaii. In addition to stunning scenery, warm sunshine, and beaches galore, there are exceptional living opportunities.

The Kohala Coast is home to some spectacular, contemporary luxury properties. This highly sought-after area is teeming with homes that offer panoramic coastal views, fantastic local restaurants, upscale amenities, and countless natural wonders and activities. If you've been eyeing The Big Island and wish to investigate past Kona home sales, you've come to the right place.

Leiola Augustine is a Hawaiian-born real estate agent who consistently ranks as one of the top agents in the state of Hawaii, serving investors, Fortune 500 developers, first-time homeowners, and the like. Leiola's upbringing and regional expertise have paved the way for her successful career helping affluent people like you find Kona condos, Kailua Kona estates, and more. If you're looking to move to the Kohala Coast and Kona to start leading the island life you've been dreaming of, contact Leiola Augustine today. Let's delve into some of Leiola's modern luxury home sales so you can see the types of properties you can own in Kona and the Kohala Coast.


69-1736 Puako Beach Drive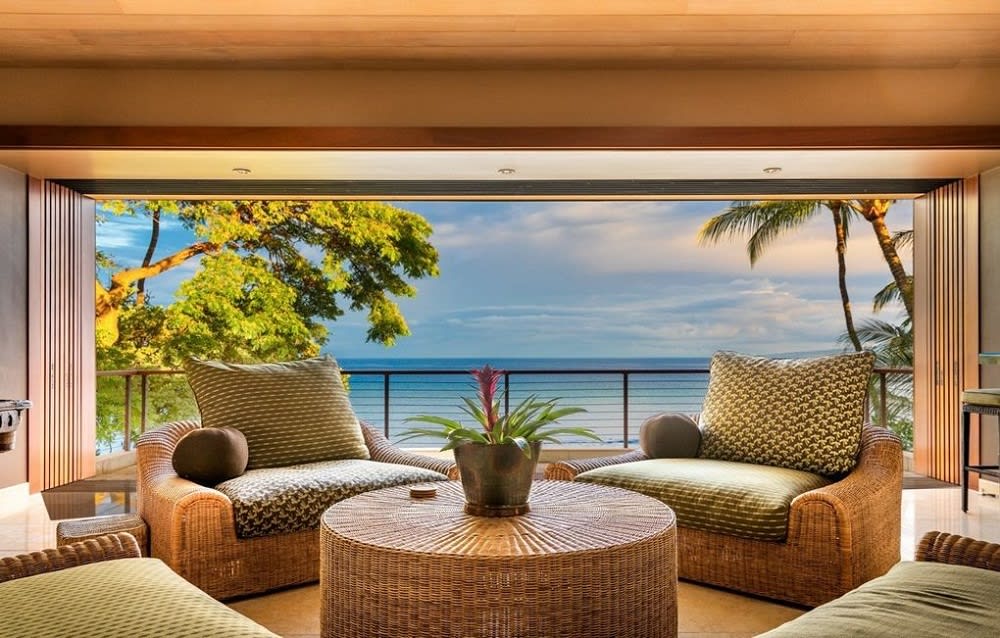 Photo courtesy of Realtor.com
The lavish modern home at 69-1736 Puako Beach Drive is the epitome of coastal island living. This magnificent four-bedroom, five-bathroom estate has sweeping beachfront views and 5,384 square feet of living space to live and play in. The architecture and interior design utilize clean lines, top-quality amenities, and distinct, extravagant qualities. Given the expansive open deck with covered areas and lush green backyard, there are endless opportunities to revel in the beauty of the Waimea coastline. Several patios give residents plenty of places to soak up some sun and enjoy a peaceful moment. The kitchen with its stainless steel appliances, the terrace decked out in cozy furnishings, and the inviting living room adds to the welcoming air of this home, ideal for entertaining guests. With its broad range of exceptional features, this $7.25 million home is worth every penny.


73-4461 Hane St.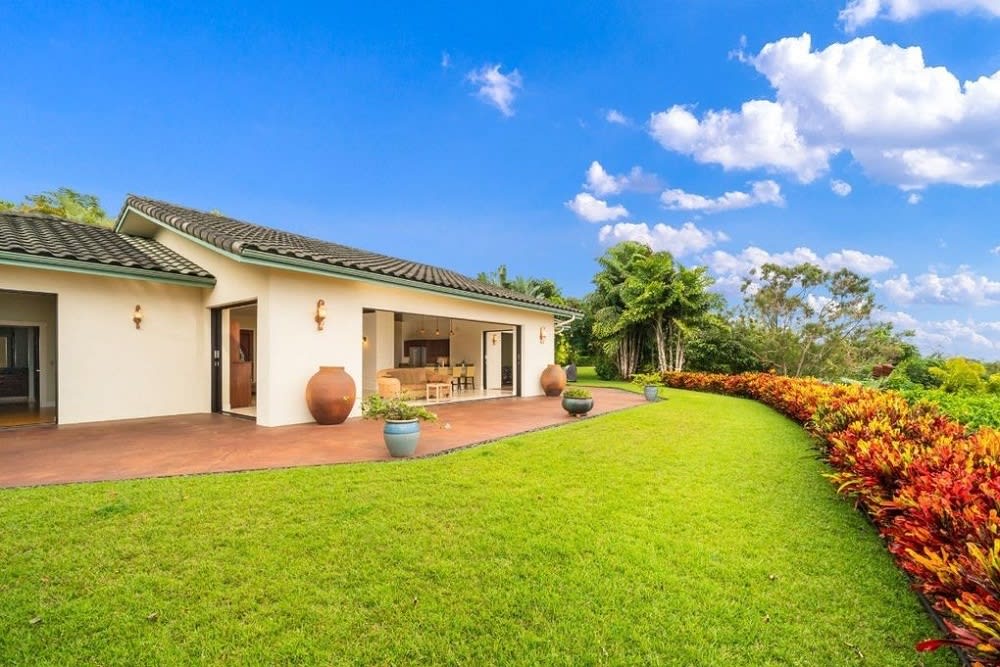 Photo courtesy of Realtor.com
Situated in the gated community of Kona Hills, this property features an open-concept floor plan with en suite bathrooms, coastline and ocean views for days, pristine landscaping, and year-round sunsets. Glimpse mature palms and Pacific Ocean vistas upon entering the home. Vaulted ceilings and large windows open to the lanai making for an extended, naturally illuminated living space. The open floor plan boasts separate master and guest suites giving every resident their own private retreat under one roof.

The interior has travertine and bamboo flooring, custom mahogany cabinets, and pocket sliding doors that add 3,000 square feet of outdoor space to the living room. The spacious master suite has direct access to the lanai and outdoors. The master bath comes with two vanities and stylish upgrades, including a custom closet organization system. Residents can choose to bathe indoors or in the outdoor shower and soaking tub surrounded by tropical flora. Down the hall from the guest suites lies a mudroom with easy access to the garage, washer, dryer, and guest bath. This three-bedroom, three-bath Kona Hills property sold for $1,725,000 and is conveniently located near downtown, white-sand beaches, and the airport.


62-3918 Lanikeha Place

Nestled in the Mauna Kea Beach Resort on the fifth fairway of the Mauna Kea Golf Course, 62-3918 Lanikeha Pl is a spacious modern mansion overlooking the Pacific Ocean. The homeowner who bought this elegant six-bedroom, six-full bathroom, two-half-bath estate truly lucked out! Given its 0.68-acre lot, 4,932-square-foot living space, and sales price of $2,975,000, this oasis was a steal! The backyard's landscape and amenities make you feel as if your life is a never-ending vacation! The patio features a crystal-blue pool and jacuzzi, appealing living spaces, and sublime views of the surrounding tropical landscape and ocean. Floor-to-ceiling windows bridge the gap between indoor and outdoor living, while comfortable furnishings, mountain vistas, gorgeous architecture, and resort location seal the deal for the ultimate island home.

These magnificent homes are a testament to Leiola Augustine's successful Hawaiian real estate career. Let's look at some other recently sold homes in Kona and the Kohala Coast.


66-84 Kaunaoa Drive, Unit C51

This stunning beachfront residence is located within the beloved Mauna Kea Beach Resort right on Hapuna Beach. A contemporary sanctuary where the sea, sand, and sky are at its forefront, this three-bedroom, three-bath property is a treasure. The white sand beach is mere steps away, and the amenities make this a quintessential luxury island home.

European oak wood flooring throughout, this modern beach home was designed with opulence and elegance in mind. The kitchen features high-end appliances, including a Wolf stove, oven, and microwave, a Sub-Zero refrigerator, a Miele dishwasher, Asko washer and dryer, and upscale fixtures. Sold for $4.6 million and offering 2,077 square feet of living space, these homeowners are guaranteed a happy, fulfilling existence living on these gorgeous grounds.


78-6616 Alii Drive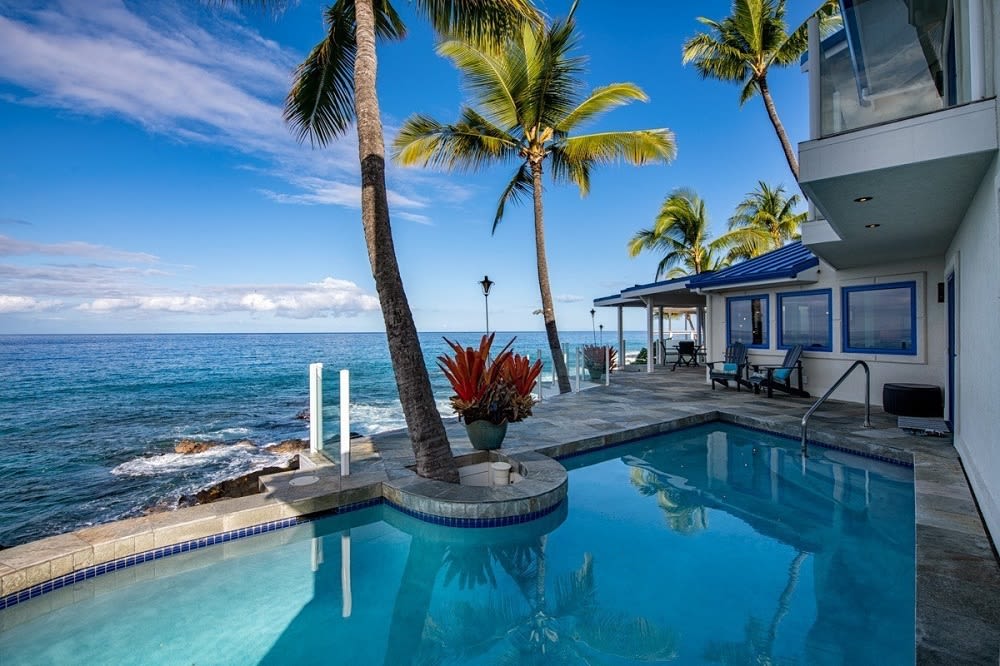 The lucky homeowner who snatched up this deluxe property in Kailua-Kona is likely lounging on their own private beach area with a drink in hand at this very moment. This one-of-a-kind waterfront estate is situated on the world-famous Alii Drive and boasts unmatched views and direct ocean access. When people dream of affluent island living, this is the type of property they imagine. Given the array of luxuries and stunning surroundings, this house was worth the $4 million the owner paid.

This two-story custom rebuild features Hawaiian koa and Brazilian teak hardwood, travertine flooring, and high-end finishes throughout. Pristinely maintained, this home has four baths, three bedrooms, and large covered porches with glassed-in balconies that overlook the majestic Pacific Ocean. The residents delight in unobstructed ocean views and salty sea breezes on this slice of island paradise. While floating in the solar-heated pool, dolphins, turtles, manta rays, humpbacks, and yellow tangs can be observed splashing about in the ocean waves. The home's secluded beach and hammock create the ideal destination for reflection, rest, and relaxation while relishing sensational Kona sunsets.


75-881 Hiona St.

Resting on an expansive three-acre lot, this classic Holualoa estate brings tranquility, privacy, and an unparalleled living experience. This three-bedroom, four-and-a-half-bath home offers a study, office, 70-foot pool, bonus living area, and an oversized lanai with various entertainment options. This exquisite $3.1 million property is designed with precision and incredible craftsmanship both inside and out.

The design boasts a flowing floor plan that bridges the interior and exterior, maintaining the home's enchanting island appeal. Interior features include towering nine-foot ceilings, built-in bookshelves, and vaulted ceilings. The floors are a combination of carpet, ceramic tile, and hardwood, and the kitchen provides you with all of the essential top-quality equipment. Every detail and amenity within this secluded estate was carefully thought out. A relaxing and peaceful day to oneself or a lively evening soiree — you decide on this magnificent property.


72-140 Kumukehu St., Unit G3201

This remarkable three-bed, three-and-a-half-bath estate overlooks the 18th fairway of the world-class Jack Nicklaus Signature design Hualalai Golf Course at Hualalai Resort. It provides ocean views as far as the eye can see. Not a day goes by where these homeowners miss a magical sunset and serene beachfront vista. The tropical landscape and water set the tone for this modern Hawaiian property.

Renovations made by the highly acclaimed Henderson Design Group create the fantastic contemporary, organic vibe felt throughout the home. The expansive living area is ideal for entertaining, and the floor plan flows effortlessly through kitchen and dining spaces. Several doors open to the large lanai to create a seamless indoor-outdoor experience. The master suite is opposite the guest rooms and features a redesigned spa bathroom and sizable closet. The copious natural light, waterfall-edged double vanity, semicircle walk-in shower, and amazing floor-to-ceiling handmade glass tiles make self-care easily attainable. Both guest rooms have en suite bathrooms for a sense of seclusion from the main living areas. Whoever stays in the front bedroom will be fortunate enough to relish a private covered patio with golf and ocean views.

Selling for $6.1 million, residents of this property have the option of Hualalai Resort Club membership, giving them access to a plethora of exclusive privileges that simply sweeten their Hualalai existence even more.

If you are enticed by these properties and wish to have Kona real estate to call your own, contact Hawaiian realtor Leiola Augustine today.